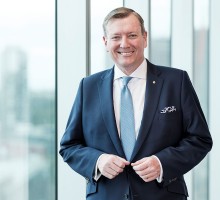 Message from the CEO
Landcom's international recognition as third in Australia in the 2020 GRESB Real Estate Assessment demonstrates our ongoing success and commitment to sustainability.
Through the adoption of our Sustainable Places Strategy into the business, we have effectively repositioned Landcom as a leader in delivering more affordable and sustainable communities for the people of NSW.
Our FY20 results show we are well on the way to achieving our goals. This year Landcom was again recognised as a global sustainability leader achieving third place globally amongst residential developers in the GRESB.
Landcom has also adopted reporting against the Task Force on Climate-related Financial Disclosures this year, and we view this as an opportunity to further understand and address the impacts of climate change – while driving an orderly transition to a low carbon economy. To complement this, we have commenced certifying our organisation under the Climate Active Carbon Neutral Standard and are proudly committed to operating as a carbon neutral business.
We continue to uphold our commitments to advancing the Sustainable Development Goals, and as a Participant to the United Nations Global Compact. As early adopters in acting on Modern Slavery, we have also welcomed the Commonwealth Modern Slavery Act 2018 coming into effect this year. We share our response to the Act, and both international frameworks within this report.
I am proud of our ongoing commitment to deliver affordable and sustainable communities. It is through these points of difference that we underpin our future financial success and enduring benefits for the people of NSW.

John Brogden
CEO, Landcom
Our Sustainable Places Strategy