Leadership Goal
Objective
To deliver low carbon, resource efficient and environmentally sensitive places.
Target
To lead environmental performance across Landcom developments by committing to being carbon neutral and water positive, with zero waste and net positive ecological outcomes by 2028.
Relevant Sustainable
Development Goals

---
Overview
Landcom's Climate Resilient Places pillar is focused on a leadership goal to 'enable carbon neutral, water positive, zero waste and net positive ecological outcomes by 2028'.
This leadership goal was developed to reflect Landcom's contribution towards the Paris Agreements2 long-term goal of keeping the increase in global average temperature well below 2°C, the United Nations Sustainable Development Goals3, and reducing the impact of shocks and stresses to communities and infrastructure as identified by Resilient Sydney4 (part of the Rockefeller Foundation 100 Resilient Cities Program), such as extreme weather and water crises.
Within this pillar Landcom focusses on environmental sustainability and resilience. It encompasses environmental management and the adoption of independent third-party rating tools and certifications, engaging with our supply chain, supporting communities to reduce their operational costs of living, and developing our projects in a way that reduce impacts on the environment.
Environmentally sustainable communities are balanced in meeting the needs of the natural, and urban environment. They take into account the needs of people today, and the needs of our future generations. Landcom believes that the built environment should incorporate green spaces and retain a connection to our natural habitats, for the benefit of the environment, and our communities.
Landcom addresses environmental sustainability through the following focus areas:
• Energy & Emissions
• Water
• Environmental Management
• Climate & Resilience
• Waste & Materials
Each of these focus areas includes a suite of targets to measure our success.
2 What is the Paris Agreement? (2018) https://unfccc.int/process-and-meetings/the-paris-agreement/what-is-the-paris-agreement
3 United Nations Sustainable Development Goals (2018) https://www.un.org/sustainabledevelopment/sustainable-development-goals/ for our full alignment to the Sustainable Development Goals see Appendix D: Sustainable Development Goals Alignment
4 Resilient Sydney, Preliminary Resilience Assessment (2016) https://www.100resilientcities.org/cities/sydney/
READ

MORE

LESS
Case Study
Sustainability Rebate
Toward the end of FY19 Landcom launched its first Sustainability Rebate to home buyers at Macarthur Heights, and in FY20 we saw the first claims for this Rebate. This is a new incentive to encourage greater sustainability and resilience of new homes in Landcom communities.
READ MORE
Management Approach
Every Landcom project is unique and requires a bespoke approach to environmental sustainability. We use the sustainability modelling tool PRECINX5 to identify opportunities for performance improvement across our Energy & Emissions and Water targets.
Our approach to Energy & Emissions includes influencing the reduction of greenhouse gas (GHG) emissions (stationary and transport) at a precinct scale across our communities and influencing the onsite production of renewable energy. We approach Water in a similar way, by looking at the reduction of potable water use across a precinct and identifying opportunities for recycling and reuse.
We also set ourselves targets to limit stormwater discharge pollutant loads from our sites. This minimises downstream water quality impacts in the communities we develop. Urban stormwater modelling software such as MUSIC6 is used to measure pollutant loads across our projects.
To see our FY20 performance for Energy & Emissions, see Energy & Emissions Performance Results below, or for Water see Water Performance Results below.
5 Landcom commissioned the development of PRECINX in 2009 as an accurate predictive modelling tool of greenhouse gas emissions, water consumption, transport outcomes and cost of living impacts of development in the built environment. Landcom now licenses the tool, as do many other developers, utilities, and local and state government organisations.
6 MUSIC Overview (2018) https://ewater.org.au/products/music/music-overview/
Landcom is committed to adopting independent third-party rating tools and certifications or exceeding regulatory requirements. We believe it is important to have independent verification of our sustainability performance. This is aligned to our targets for Environmental Management. Our preferred rating tools are outlined below.7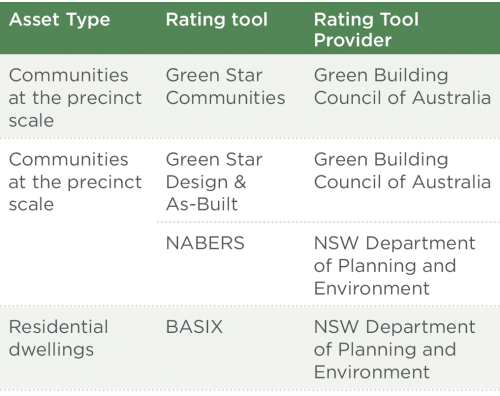 For our FY20 activities related to Environmental Management, see Environmental Management Performance Results below.
7 In some instances Landcom may also agree to use other rating tools in lieu of, or in addition to, those outlined. This is at Landcom's discretion.
Landcom's approach to Climate & Resilience includes understanding our physical and transition risks to climate change and its impacts, ensuring our communities are adaptable to change, addressing known risks such as urban heat island,8 and maintaining our commitment to enhancing local biodiversity and ecology.
During FY18 Landcom built its internal capacity for assessing asset exposure to physical climate change risks. This included adopting a risk assessment framework, Resilience-In-Design checklist, prompting project teams to consider common climate risks during the early phases of a project's design, and completing community resilience plans9 designed to enhance the resilience of our communities in the way they live day to day.
In FY19 we expanded our remit and sought to better understand our physical and transition risks to climate change. A gap analysis aligned with the Task Force on Climate-related Financial Disclosures Recommendations and 2019 Global Real Estate Sustainable Development Resilience Module was undertaken to determine Landcom's current level of preparedness for the transition risks of climate change, and how Landcom currently addresses physical risks at its assets. This included business wide stakeholder engagement and a review of Landcom's systems and processes. The results found that Landcom is comprehensively addressing the physical risks to assets, and there is opportunity to enhance our preparedness to transition risks.
In FY20 Landcom has commenced reporting against the Task Force on Climate-related Financial Disclosures Recommendations. This is a key component of our approach to addressing climate change physical, transition and social risks.
We are already taking steps to address known physical risks immediately, which includes reducing the effects of urban heat island across our new communities. As one of Sydney's most significant climate-related risks, early design interventions that address urban heat reduction are essential in the creation of new communities. We also continue to invest in research to address urban heat, including through Landcom funded Roundtable projects (see Research Investment).
Finally, Landcom seeks to address resilience in the natural environment. This is achieved when we maintain strong diversity of our ecological systems. We abide by legislative requirements including the Commonwealth Environmental Protection and Biodiversity Conservation Act, and the NSW Biodiversity Conservation Act when addressing areas of biodiversity. When we purchase biodiversity offsets for our development approvals, we use the NSW State Government BioBanking Scheme which commits land owners to enhancing and protecting the biodiversity values of their land. We use our Biodiversity Calculator to measure the quality and quantity of ecological communities beyond any legislative requirements, pre- and post-development. We aim for a net positive outcome at the completion of our projects.
For our FY20 performance against our Climate & Resilience targets, see Climate & Resilience Performance Results below.
8 Urban Heat Island Effect (2018) http://www.cityofsydney.nsw.gov.au/vision/towards-2030/sustainability/carbon-reduction/urban-heat-island
9 Eligible assets include those that have been assessed for climate change risks.
Landcom's environmental leadership goal for 2028 includes enabling zero waste communities. To do this we are advocating for responsible use of resources, and diversion from landfill. Landcom has long held a waste diversion from landfill target, which is maintained in our Sustainable Places Strategy.
While we are focused on reducing waste within our own offices it is construction waste that is material to Landcom's operations. As part of our ongoing commitment to reduce waste and increase responsible materials use, Landcom continues to engage with our site superintendents and principal contractors to reduce, reuse or divert waste from landfill.
We also include the responsible sourcing of timber for all construction works within our approach. This increases engagement with our supply chain, and supports our work underway within our Accountable & Collaborative Places pillar.
For our FY20 performance results against our Waste & Materials targets, see Waste & Materials Performance Results below.
Our Sustainable Places Strategy identifies a number of initiatives as future opportunities to enhance our Environmental Management, Climate & Resilience, and Waste & Materials focus areas. This includes:
understanding Landcom's role for improving air quality within our communities

determining the value of adopting a Landcom materials Red List

establishing how life cycle assessments may improve our supply chain and reduce embodied carbon at our projects.
In FY20 we progressed investigations into how Landcom can positively influence air quality within the areas we operate, and a strategy for this, including actions and targets, is currently in development. As part of our FY19 materiality review, air quality became a material for Landcom as part of Natural Capital Protection & Management. As we finalise our approach to addressing air quality, we will update our management approach.
We continued to support research at the Centre for Smart Modern Construction to develop methodologies for estimating embodied carbon in construction supply chains. We see a future for tools such as this which will help us to track actual embodied carbon through the delivery of our community infrastructure and civil works.
Performance Results
See below our performance results for each of the reporting areas within our Climate Resilient Places Pillar.
Our Sustainable Places Strategy